With Christmas coming I am always on the lookout for fun little items to put in my childrens stockings… and with seven children I need alot of little fun items.
My boys are always bugging me for bowties and of course my girls all like pretties so when Danielle asked me about a review/giveaway for her site, Saving Grace Designs, I was really excited.
My only problem was I didn't know what I wanted to review! There are so many adorable things, like this cute little felt campfire set: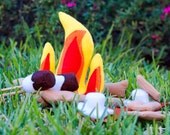 Isn't that adorable?!
We finally settled on an this little felt Anna doll. I don't know about your kids but mine are CRAZY over Frozen. Especially my girls.
It's going to look SO cute peeking out the top of Putters stocking Christmas morning! I can't hardly wait myself…
Danielle surprised me when she tossed in some other cute stocking stuffers for the rest of the younger kids… the little boys will absolutely LOVE these bowties. I love that they are velcro so they can't get too tight around their cute little necks… and I won't have to learn to tie them 😉
Meanwhile the girls will find these beauties in their stockings come Christmas morning!
I love the vintage inspired prints on these knot headbands. I kept that little yellow and grey one for myself, but Putters stole it so I know she will be happy to find a couple more Christmas morning. I did manage to snap a shot of Baby Belle wearing one… she promised not to tell anyone about them before Christmas
Sorry its a little blurry.. she is never still, not even when she's sleeping!
So if fun little stocking stuffers are on your shopping list this Holiday season, head on over to Saving Grace Designs and check out all that Danielle has to offer! She makes many more felt play sets and headbands and bowties, diaper bags and more!
You can also find Saving Grace Designs on Facebook, where you will find her newest creations, and Twitter!
This coming Thursday night thru Monday, Dec. 1st Saving Grace Designs will be having a Black Friday, Small Business Saturday SALE! 20% off every order of $30 or more!  All Black Friday orders are guaranteed to ship by Dec 15th for Christmas delivery! Just use code: BF2014
Then come on back here to enter to win a $15 store credit to Saving Grace Designs!